What is Extranet?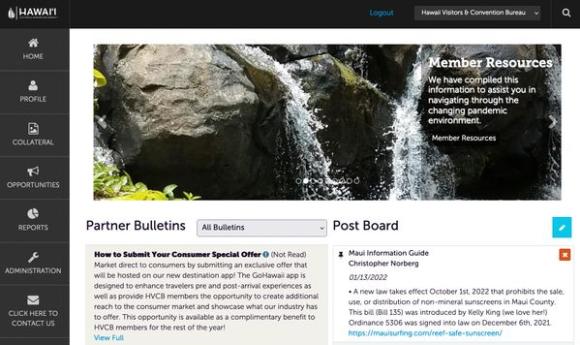 Extranet is a password protected online portal where members can view and edit all the information on their membership record, including:
Digital listings
Company imagery
Special Offers
Job Openings
Company information
Staff contacts
And much more…
How to Access Extranet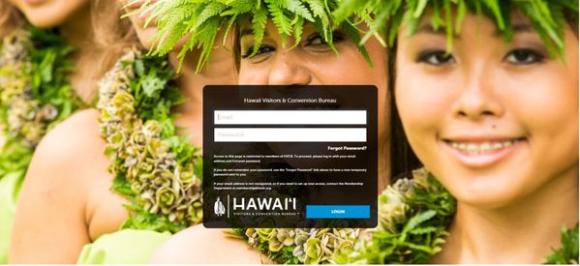 The easy to remember shortcut to Extranet is https://hvcb.org/update. That will forward you to the login page that you can bookmark for future use.
If you ever forget your Extranet password, there's a link on the login page to reset it. Each contact on your account can have their own separate login information, so there's no need to share emails or passwords. Reach out to us if you need to have another contact added to your account and their Extranet access set up.
Extranet Homepage
Once you log in, the Partner Bulletins area on the main page will have news and updates, as well as short articles to help you get familiarized with how Extranet works.
The Post Board gives you an opportunity to describe your product, service, special discount, or partnership idea to other HVCB members using Extranet.
Profile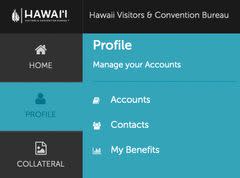 To begin updating your company information, click on Profile in the left side menu. There are three sub-sections:
Accounts is where you'll find your general company information like your address and phone numbers, website and email, safety protocol information, and other details.

This information will be displayed on your website listings, so don't enter anything you don't want publicized.

In Contacts, you'll find a list of the company staff we have listed on your account.

You can have as many contacts as you'd like on the account, and we recommend that you have at least two.
When you add contacts, you'll be asked to designate their general areas of interest or responsibility. This will help us direct our communications at the people who can best act on them.

The third item in Profile is My Benefits, where you can see how many views and clicks your website listings are receiving, and a summary of some of the other benefits you're receiving.
Collateral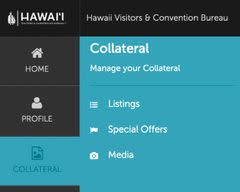 Now that you've updated your company details, you should navigate to Collateral to edit the information that appears on your various online and print listings. You can also enter special offers or discounts for visitors or travel professionals.
Depending on your category and level of membership, your listings may appear in:
GoHawaii.com - Hawaiʻi's official visitor website
GoHawaii App and Kiosks – Hawaiʻi's official destination app available for iOS and Android, kiosks located in selected high traffic sites.
Statewide Official Visitors Guide – Available both in print and digital formats
Agents.GoHawaii.com – Hawaiʻi's official travel trade information website
HVCB Member Directory – Available on HVCB.org, accessible to members only
MeetHawaii.com – Hawaiʻi's meeting planner information website
Hawaiʻi Meeting Planner Guide – Available digitally on MeetHawaii.com
The information that appears in all those listings can be edited in the Collateral area.
 Listings is where you'll enter the text descriptions for the listings that include one

Gohawaii.com targets a consumer audience, MeetHawaii.com is directed at meeting planners, and the HVCB Member Directory is more of a B2B or kamaʻāina audience.
You're encouraged to tailor your descriptive text to fit the audience that will be seeing it.

Special Offers can be entered for two categories – Consumer or Travel Trade. The Special Offers area is also where you can add Job Openings to the Hawaiʻi Tourism and Hospitality Job Board.

Consumer offers appear in the GoHawaii destination app and will soon also be found on HVCB.org as well.
Travel Trade offers are shown on Agents.Gohawaii.com, and are meant for travel professionals to use themselves, not to pass on to their clients.
Select Job Board to submit a job opening.
Use the Offer Category selection to designate the type of offer you are submitting.


In Media you can add images to appear on your listings.

Images should be at least 950x700 pixels and in a landscape orientation.
Visit our Adding Images page for full instructions.
When updating listing information, special offers, or images, your edits will need to be approved by one of our Membership staff. Once approved, your changes should appear on the various websites within a few hours.
Detailed instructions on specific tasks are below. If you have any questions about accessing Extranet or updating your company information, contact us at membership@hvcb.org.
---