Hawaiʻi Tourism and Hospitality Job Board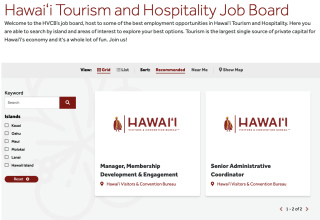 The COVID-19 pandemic has had many long-term impacts on our industry. Even now, in this period of recovery, many companies are still experiencing staffing shortages and having difficulty finding candidates for their open positions.
In an effort to help gain exposure for openings at their companies, we have created a Hawaiʻi Tourism and Hospitality job board where HVCB members are able to submit job postings.
Jobseekers are able to browse listings by island or use a keyword search to find their best options. The job board is available to the public and will be promoted through social media and our partner associations.
Instructions on how to submit a posting can be found here.
If you have any questions about the job board or trouble with your submission, please contact us at membership@hvcb.org.